7 Best Tablets for Video Calls (2023 Review)
January 6, 2023
Whether you must attend an online class, deliver a presentation, or conduct irregular video calls, larger screens with high camera quality are required. A tablet with a larger screen would be necessary to satisfy your needs.
It's up to you to decide which of the numerous possibilities is best for you. They're all attractive, ultra-slim, and packed with features like a high-quality video and sound system.
Here is a list of the top 7 best tablets for video calls, based on various factors, such as performance, camera quality, and pricing. To ensure you get the best tablet for video calls for your money, we talked to experts and weighed their opinions.
According to our extensive review, the Samsung Galaxy Tab S8 is the best tablet for video calls. So, if you're pressed for time, this Android tablet is the one for you.
7 Best Tablets for Video Calls Reviews
When it comes to tablets with the best video calling features, there are seven options that you might want to check out here. We performed extensive testing and analysis on a variety of well-known tablets, and we chose the ones that performed the best based on relevant criteria.
Here is the list of the seven best tablets for video calls, all of which have been thoroughly reviewed so you can come to a conclusion.
When it comes to video chats and recordings, the new Samsung Galaxy S7 delivers outstanding performance, thanks to its high-quality 8MP frontal camera and 13MP rear camera resolution. The 8MP front-facing camera takes pictures that are exceptionally clear, even in low-light settings.
With an 11-inch TFT screen, you can enjoy a cinematic experience with standard and widescreen viewing and arrange video meetings using Zoom, Skype, Meet, and other apps. With such a large screen, you can play your favorite games whenever and wherever you want.
There are also top-rated built-in speakers and microphones that are reliable and provide the highest sound quality. Moreover, these dependable features allow you to make video calls with others and check that you are not disturbed even if you do not have a headset.
A storage capacity of at least 128 GB allows you to store your audio and video files with ease. Students will appreciate the high-quality 1600×2560 pixel resolution of their recorded online lessons and other important videos. The Samsung S7's backup feature ensures that your video files are safe and sound.
Fast charging allows for unlimited video calls with other people. Additionally, a full charge of your tablet's battery takes about an hour and a half. The one-time charge has the potential to ensure a continuous workload of 10–12 hours.
It has a DeX mode for connecting to a projector for a big audience show, but it does not have an audio jacket, which some may find unpleasant. Other complaints include the lack of a vibration-killing option, which isn't as big of a deal in comparison to the occasional loss of connectivity.
Pros
Fast charging and long battery life
Great camera resolution
Great front and rear camera
Huge storage and can be upgraded
Flexible connectivity from Bluetooth to DeX
Cons
There's no vibration-off option
Lacking an audio jack
Verdict
We believe that the Samsung Galaxy Tab S7 is an excellent choice for students and those who need a large storage capacity for high-quality video files and a high-quality camera for participating in online meetings or classes. Additional features such as rapid charging and long battery life make the device more desirable.
In terms of portability, this iPad is a great choice because of its low price point and comprehensive feature set. This small and lightweight phone is perfect for reading in the park or on a plane, and it also has a good front camera for FaceTime calls and short video chats while doing something else.
The 12MP front camera on this iPad is hands down its best feature. The wide-angle camera makes it a great choice for people who frequently attend online classes or meetings. Only the camera's performance merits a spot on this list of the best tablets for video calls. 10-hour long battery life is also a noteworthy advantage.
The built-in stereo speakers of this iPad are also highly regarded for their dependability and sound quality. Stereo speakers make it possible to hear both sides of the conversation well. Powered by the A13 Bionic Bionic chipset, this iPad has the classic home button and fingerprint reader. Overall, it's a high-quality experience at a reasonable cost.
Video chats and recording are a pleasure on the stunning 11-inch Retina display, which can easily compete with more expensive models. As a result of the screen's flexibility, you may perform a wide range of tasks, from designing and creating art to gaming and, most importantly, video calling.
Apple's FaceTime, meanwhile, is an excellent tool for making video calls. To begin with, it only works with the Apple Kit. You may already have purchased an iPad to complement your iPhone. You can get a 10.2-inch iPad for the lowest price, and if it gets lost, you won't be much saddened compared to more costly Apple products.
Pros
A great price for a decent all-arounder
A wide-angle front camera, despite the smaller size
Extremely lightweight, making it a great portable tablet
Long battery life
Durable screen
Cons
A slightly old model, thus hard to navigate
Slightly less storage is relative to others.
Verdict
In our opinion, Apple's iPad is a good tablet for a reasonable price. For students looking for a cheap option to participate in online meetings or classes with a high-quality camera via a tablet, this is the ideal option. A nice feature is a display that is both lightweight and flexible, as well as having adequate RAM in the processor.
If you're looking for an alternative to Apple's iPads in the tablet market, look no further than KingPad. Everything you need to succeed can be found in this one. The Kingpad comes packaged with a keyboard, a stylus pen, and a cover that is aesthetically pleasing.
The screen of the KingPad is a silky 10.2 inches in size, and it will provide you with pictures and videos of the greatest possible quality. In addition, the display resolution is fantastic, coming in at 1920 x 1200 pixels, and also the colors are quite sharp and distinct.
Most importantly, the main camera of the KingPad Pro is a 13mp shooter, and the front camera is an 8mp shooter. Some of the image adjustments are rather excellent, as well. It's possible to modify the image's brightness and contrast, enhance white things, add highlighting shades, and dim the background.
If you want to add a 'pop' to your image or a vignette, you can change the saturation, warmth, tone, and hue. Additionally, you have the option of applying filters and then annotating the final image.
The KingPad K10 Pro has a lot of positive attributes in my book. Because of its compact size and low weight, it's easy to carry everywhere. Stylus's comfort and responsiveness make it an excellent choice, and the attached keyboard makes it even more appealing. This Kingpad features a battery capacity of 6000mAh, which can handle a heavy task for a long period of time.
The speaker is competent, but he or she has the potential to be even more impressive. 4GB of RAM and 64GB of memory are also included in the KingPad K10 Pro's microSD card slot. Better yet, the storage should be substantially larger, as you now require more space to save your work for offline use.
Pros
Day-long battery life
Comes with keyboard and stylus pen
Great camera and screen resolution
Multi-position hinged stand
Affordable price.
Cons
Less storage
Scratchy audio output from the speakers
Verdict
It's a terrific deal for a tablet, cover, keyboard, and pen, all at a lower price point. This Android tablet from Vastking has all the features you need for both work and play at an economical price. It has a superb camera, making it the best cheap tablet for video calls at a reasonable price. It's definitely worth checking out.
For a long time, the options for a tablet to go with your Android phone were few. If you're looking for a tablet, even many Android fanatics would advise you to simply get an iPad. Due to its bright and dazzling design, the Samsung S8 could be enough of a reason for users to prefer it over the iPad.
You'll be able to use the S pen with fun as some interesting software tricks are contained within the S Pen. When you highlight a part, you can convert the text to speech and create custom screenshot shapes.
Using the pen's virtual tracing keyboard capability, you'll find it useful for browsing the web. When you use the S pen to write on the screen, you'll notice a significant improvement in the responsiveness of the pen.
A wide-angle frontal camera and auto-framing technology will ensure that you'll always be in focus, even if you're constantly shifting your body position. A 12MP selfie camera is on the front of the phone, while a 13MP auto-focus camera, as well as a 6MP ultra-wide camera, are on the back. You'll be able to capture high-quality 4K video and take stunning images with this device.
For a tablet with four speakers, the Samsung Galaxy S8's volume level is quite impressive. The speakers produce a sharp and clear audio signal with good resonance, but the bass is somewhat lacking in impact.
This tablet has 8GB RAM and an 8000 mAh battery, making it a formidable device. For extended periods (up to 13 hours), nearly everything from creative work to audio and video recording can be done.
The cost of this giant machine may be its most significant downside. It's not affordable to everyone. Despite the fact that it includes an S pen, this tablet will set you back anywhere from $700 to $900.
Pros
Gorgeous design
Include S pen
Long battery life
Good audio
Great frontal camera with auto frame
Cons
A little expensive
No charger included
Verdict
Galaxy Tab S8 is an outstanding and powerful Android tablet from Samsung. It's quick, durable, aesthetically pleasing, and pleasant to use. It is possible to take images and video calls using the cameras. It will cost a little extra money, but the S Pen that comes with it is a good bonus.
The Microsoft Surface Pro 7 is a fantastic tablet that can be transformed into a laptop by connecting a keyboard. It's one of the best tablets for video calls and other demanding workloads because of its powerful 10th Gen Intel performance, clear display, sufficient power, and great optional Type Cover keyboard.
Surface Pro 7 is a large tablet with a kickstand on the back and an optional keyboard dock called the "Signature Type Cover." Its thicker and heavier screen gives it a more aesthetically pleasing appearance.
The 12.3-inch display may be used as a touchscreen as well as a laptop screen. Using a 2736 x 1824 resolution while browsing the web, doing work, or watching videos looks fantastic.
Surface Pro 7's audio speakers are perfect for quick YouTube or Netflix movie viewing, but they're too low to enjoy your favorite songs and sports. I couldn't get into the song since it was low-key and lacked bass and drum sounds.
8GB of RAM and the Core i5 10th generation CPU make the Surface Pro 7 one of the most powerful tablets or laptops on the market today. It's a perfect choice for heavy-duty multitasking because of these qualities. With the Intel Iris Plus graphics, you can play some low-graphics games as well.
A portable charger is a must-have for long-distance travel with the Surface Pro 7, even if the battery lasts for most of the day. So, you can expect roughly 8 hours of battery life from this tablet while not connected to the power source.
Eight hours of battery life and 256GB of main storage are included, but you can expand it to 1 TB. Comparatively, the battery life isn't quite up to standard. It's also difficult to purchase for most individuals because of the high cost. In the end, you'll receive a laptop in disguise as a tablet, so it's worth it.
Pros
Sharp and clear display
Solid performance
Detachable keyboard
USB- C port
Storage can be upgraded to 1 TB
Cons
Not so affordable
Low battery life
Verdict
When it comes to both looks and performance, the Surface Pro 7 is an absolute beast. Because of its powerful CPU, it's suitable for multitasking. Videos and recordings will come to life thanks to the thrilling front and back cameras and the responsive display.
The Android tablet market is dominated by Samsung. It is not limited to the production of high-end, high-priced tablets. For those in need of an economical tablet, Samsung has provided them with this Galaxy Tab A8 as a surprise gift. It has a lovely, straightforward design and most of the functionality you'll need at a reasonable cost.
If you're looking for a tablet with good photography performance, the Samsung A8 tablet is an excellent choice. For the price, it's the best tablet for video calls for senior elderly persons. The Samsung A8 tablet comes with 5MP front and 8MP rear cameras. However, the Zoom camera feature will be sufficiently served by this device.
The 7040mAh battery on the Samsung Galaxy A8 is more than sufficient for light use and will last you days. After all, it takes a hefty battery to power the 10.5-inch screen continuously. While online browsing and social networking can keep your battery charged for up to two days, services like Netflix and YouTube can quickly drain your battery. Its 15-watt maximum speed battery has one drawback: it takes a long time to charge entirely.
The tablet only has 32 GB of storage, which is a small amount when compared to other tablets. There are just 3 or 4 GB of RAM, which isn't much for multitasking. However, you may add up to 1 TB of additional storage using a microSD card. It's possible to get 128 GB of built-in storage for an additional fee.
With such a 1920 x 1200 resolution, the 10.5-inch touchscreen is enough for most applications. While on video calls, you can converse effectively with the help of some competent speakers.
Pros
Impressive battery life
Wide display, great for streaming
Affordable cost
Access to the Google Play store.
Solid performance
Cons
Not so good front and rear cameras
Low battery life
Verdict
There are a few budget-friendly tablet computers on our list that can provide everything needed for a smooth video conference. Its premium look and clear, loud sound are remarkably accomplished at a low price point. Although the tablet's performance isn't exceptional, it's more than adequate for the price. These features make it the best tablet for video calls for elderly people from Samsung.
If you're searching for something that's good enough, Amazon's Fire HD 10 Plus would be a great choice. At an affordable cost, it improves upon all the best cheap tablets for video calls available: the Fire HD 10. Excellent battery life and a nice display make it one of the best-value tablets on the market.
Amazon's Fire HD 10 Plus is a pleasant surprise. That's not exactly great praise, but in terms of aesthetics, you get what you paid for. The tablet's soft-touch surface makes it easy to handle for extended periods of time. It comes with 4GB of RAM for not much additional money.
Displaying 1920 x 1200 pixels at this pricing point is an unexpected bonus. You may find the tablet's screen to be vibrantly colored and easy to read. With its small size, the tablet's resolution is good enough to produce a clear and crisp image, and the brightness level is also enough. It's a nice screen, but it's not among the best.
Though its speakers are less stunning, the Fire HD 10 Plus remains a strong performer in its class. Headphone jacks and Bluetooth connections are useful if you want the optimal audio experience.
This device comes equipped with two cameras, one on the front for 2mp and the other on the back for 5mp. However, neither of them will see much action. Colors may appear flat and muddy, and the difference between colors is almost completely lost in the final images.
It has a long-lasting battery that lasts roughly 14 hours and a very reasonable price. USB-C connection and wireless charging make it possible to use a gadget that you can practically forget to require recharging.
Pros
Long-lasting battery
Affordable price
Easy Alexa access
Bright display
Wireless charging and USB-C
Cons
Not-so-good cameras
Outdated design and no google maps
Verdict
Amazon's Fire HD 10 Plus is a great value if you're already part of the Amazon Prime family. However, it doesn't exactly outperform its budget-priced rivals in terms of quality. It will fit perfectly in with someone who enjoys curling up with a good book or watching a movie on Amazon Prime Video. It easily takes place in the list of the best cheap tablets.
What Should You Look for in the Best Tablet for Video Calls?
If you want to acquire the best tablet for video calls, you need to be familiar with some tablet features. Finding the right one for you will be much simpler if you are well-versed in the subject area.
Camera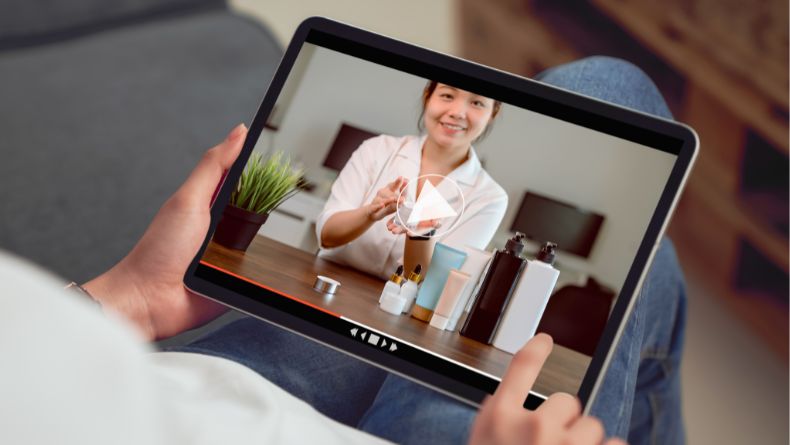 First and foremost, you need a good camera on the tablet, as your primary purpose is to make video calls efficiently. You'll be staring at the tablet's screen the entire time you're on a video call. In this case, the front camera will take a photo of you and communicate it to the other participants at the conference.
An excellent camera is essential for the best video calling devices if you want to capture the most vivid images and videos. 3 to 5-megapixel front-facing cameras are generally sufficient for video calls. To get high-quality images, you'll need to have a tablet with both front and back-facing cameras with more megapixels.
Display Size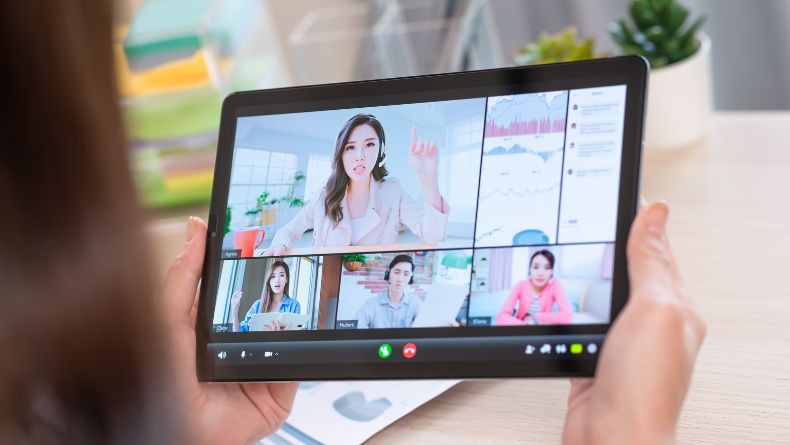 At times, we have to conduct video conferencing with more than one person at a time. If this is the case, you'll need a larger display to accommodate everyone. You may also require a larger screen if you plan to use video calls that include screen sharing or presentation via video call. If you're looking for a laptop-like experience on your tablet, then a larger display tablet may be the best option.
The small screen, on the other hand, can be useful for portability and ease of use in some cases. Like your smartphone, a small tablet can be used for video calls. Tablets of the 9-10-inch variety are ideal for a wide range of tasks. It will be a win-win situation for both students and grandmas.
Screen Resolution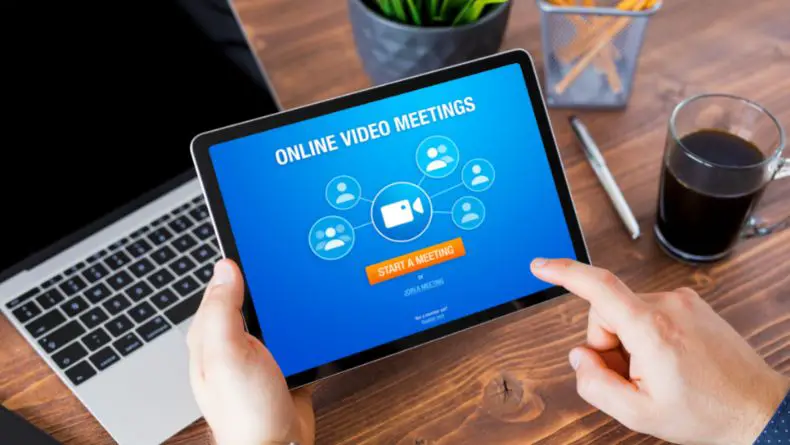 In order to see fine details in the video, it is best to use a tablet with a clear, sharp screen when making a video call. In order to get the best results from video calls, you should be looking for a screen resolution of at least 1920 x 1080 pixels. High-resolution tablets like 2736 x 1970 pixels make it easier to see the fine details and get a clearer picture.
Speaker and Sound
In the market, there are a few tablets that have an audio jack and others that don't. The audio jack allows headphones and other devices to connect to Bluetooth for the best sound quality. Bluetooth headphones are the only option if you want to use a headphone. Aside from that, most tablets come equipped with built-in speakers. Tablets' inbuilt speakers can produce stereo sound via one speaker or multiple speakers.
Affordability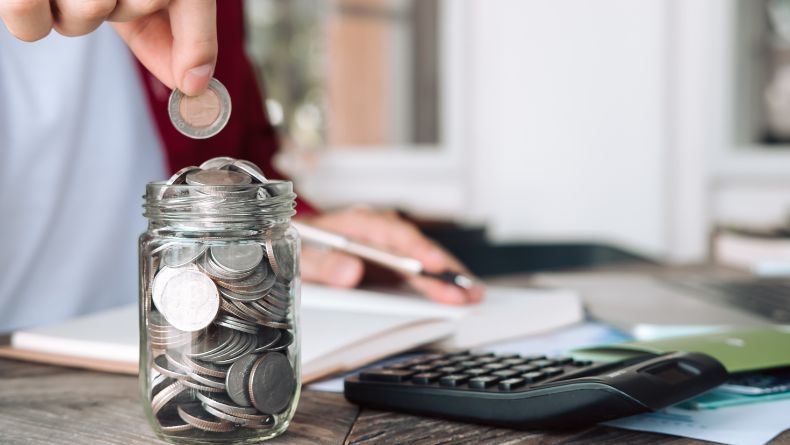 Before you buy a tablet, take a hard look at how much you're willing to spend. For the most part, a larger budget will allow you to purchase better-equipped tablets, and the opposite is true for those with smaller budgets. You can certainly find good performers at the lower end of the price range, so don't be fooled into thinking that low cost equals low quality.
The price of high-quality tablets on the market starts at $200. An affordable tablet with top features is available, depending on your price range.
Operating System and Battery Life
There are three types of tablet computers: Android, Apple's iOS, and Microsoft Windows. A lot of people like Android because it's easy to find and has a lot of features. In contrast, Apple's operating system is called IOS. This is entirely up to you to choose.
The battery life should also be taken into account when making a decision. Tablets running Android or iOS deliver excellent performance and long battery life. Having a battery backup that lasts for 10 to 12 hours is ideal for video calls and other tasks that go on for an extended period of time.
Some Questions You May Have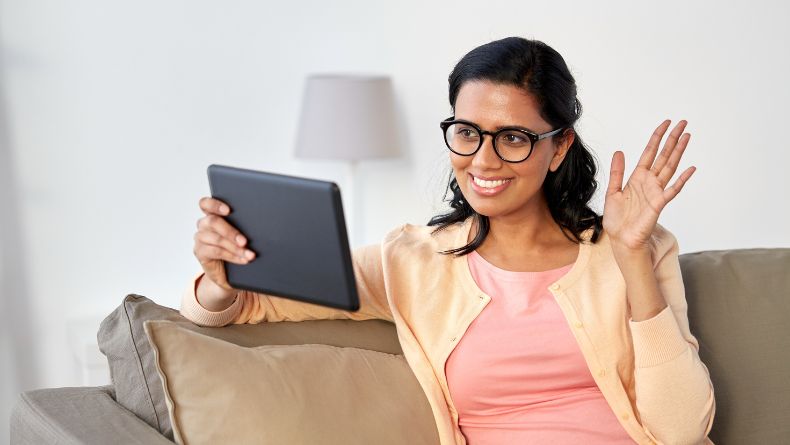 What Display Technology Is Best for Video Calling?
LCD, also known as TFT and IPS displays, and OLED are the two primary categories that display technology fall under (AMOLED, Super AMOLED). Choose OLED or AMOLED displays if you plan to make use of the feature for video calling.
What is the Ideal Camera Resolution for a Tablet Used for Video Calls?
If you want high-quality video calls, you need to have a minimum of a 3–5 megapixel front-facing camera. For photography, a camera with a higher megapixel count is the best option. Your internet connection, speaker system, and illumination are all aspects that affect the performance of your video calls.
Are iPads better for Video Calls than Android Tablets?
For video chatting, audio, and even convenience of use, we believe iPads are still superior to Android tablets, in our opinion. FaceTime, which is most famed for its end-to-end encryption, is also available on iPads, which have stronger speakers and cameras. In Android, Zoom and Skype are available for video calls and meetings.
What Type of Front Camera Should a Video Calling Tablet Have for the Best Service?
It is our opinion that a wide-angle front-facing camera with an objective of f/2.0 is the minimum requirement for a tablet suitable for video calls. This increases your field of vision and makes it easier to work in dimly lit environments. Cameras that can operate effectively in low light are also appreciated.
Is a Screen Protector Going to Cause a Drop in Video Call Quality?
It is expected that the protector will have no impact on the screen's overall quality. It is because the protectors are so close to being completely transparent that they won't have any impact on your ability to make out specific details in the image displayed or video call on the screen.
You May Also like: Best Tablets For Watching Movies (Netflix & Amazon Prime)
Bottom Line
With these tablets, you can get the greatest picture and video quality possible. Go through the purchasing guide and reviews to make an educated decision on what to buy.
If you'd want our advice, I'd suggest the Samsung Galaxy Tab S8 is the top pick. The Samsung Galaxy Tab A8 is the best inexpensive tablet for video conferencing if you're on a tight budget.
We know that choosing a decision might be difficult, so we've provided you with seven options so that you can pick the best tablet for video calls based on your preferences.