Amazon Fire Vs Samsung Tablet – Which One Is Better For You?
November 7, 2022
While Samsung is known for designing some cutting-edge tablets, Amazon introduced its Fire series while keeping in mind budget customers. It is truly difficult to select the winner from this Amazon Fire vs Samsung tablet debate, especially if you consider the various specifications and features both these devices have.
Samsung uses an OS called the One UI, which is based on Android 9, while Fire tablets come with Fire OS, which is based on the stock Android.
The important difference is that you can only use Google Play Store from Samsung devices, and with Amazon Fire Tablet you are limited to the Fire Store
However, these are not the only difference these two tablets have. So, our team of experts used and analyzed both these tablets and made an 11-point comparison.
Amazon Fire Vs Samsung Tablet – 11-Point Comparison
It is not easy to give a verdict about the winner in this Amazon Fire vs Samsung tablet debate, as you need to consider various aspects of both these devices. So, here goes the 11-point comparison guide to help you select the best tablet for your budget.
1. Processor And Memory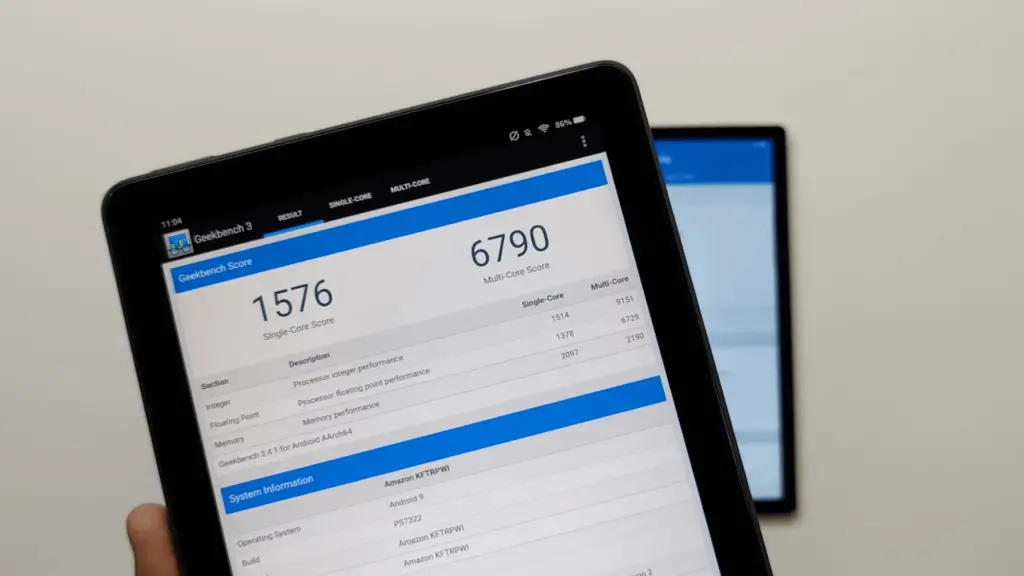 The Fire HD 8 and the Fire HD 10 tablets come with a quad-core processor with 2 GB RAM. The top version of the Fire range, the Fire 8 Plus model, has an octa-core processor with 3 GB RAM to make it the fastest among all Fire devices.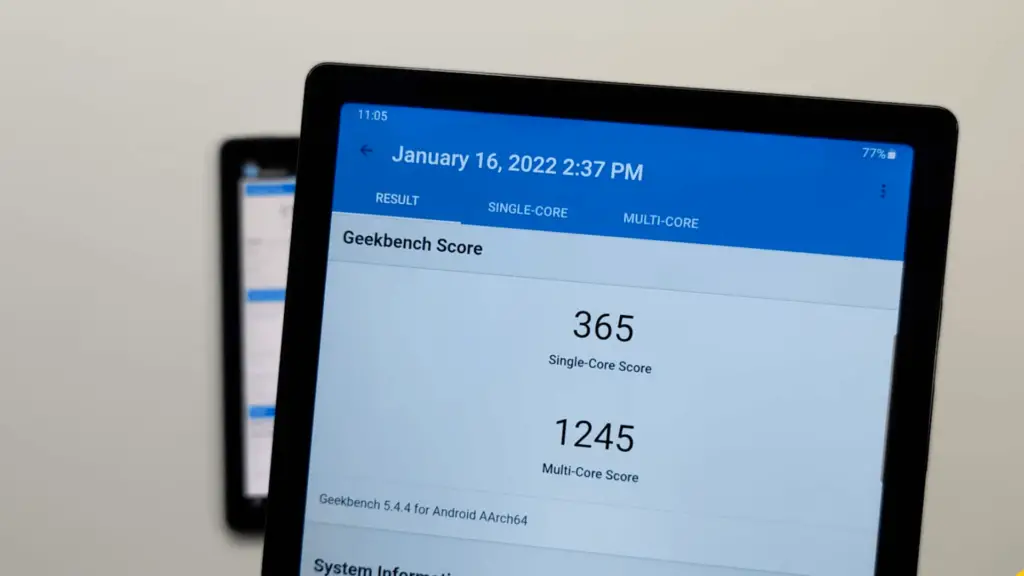 On the other hand, almost all Samsung tablets now come with Snapdragon or MediaTek octa-core processors, while a few basic variants still have quad-core.
Besides, even the lowest variant of Samsung tablets, like the A8, has at least 2 GB of RAM, with some of the top variants, like S7, featuring up to 6 GB RAM.
Note: Storage is not a problem anymore if you are using any Samsung tablet, as you can now use an SD card as default storage for Samsung tablets.
2. Operating System
Fire devices use the Fire OS specially developed by Amazon. You can't access Google Play Store and also can't install any third-party apps on Fire devices, as apps can only be downloaded from the Amazon app store.
The good news is that by following some easy methods, you can sideload Play Store and any other app available on the Play Store.
On the other hand, Samsung tablets are also based on Android, although Samsung uses a different UI called the One UI.
3. Build Quality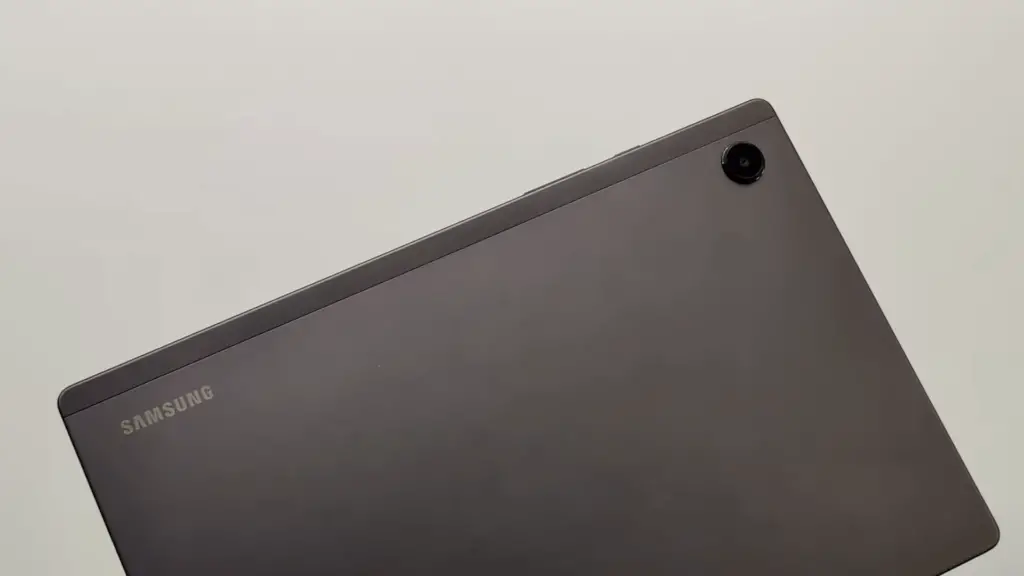 Most people consider the build factor in the Amazon Fire HD vs Samsung tablet models debate.
Both these brands produce lightweight tablets. The basic variant of the Fire tablet, the Fire 7, is around 150 grams in weight. And the top variant of Fire tablets, the Fire 10 HD, weighs around 350 grams.
However, all the Fire tablets feel lighter and quite handy even when you use them with one hand.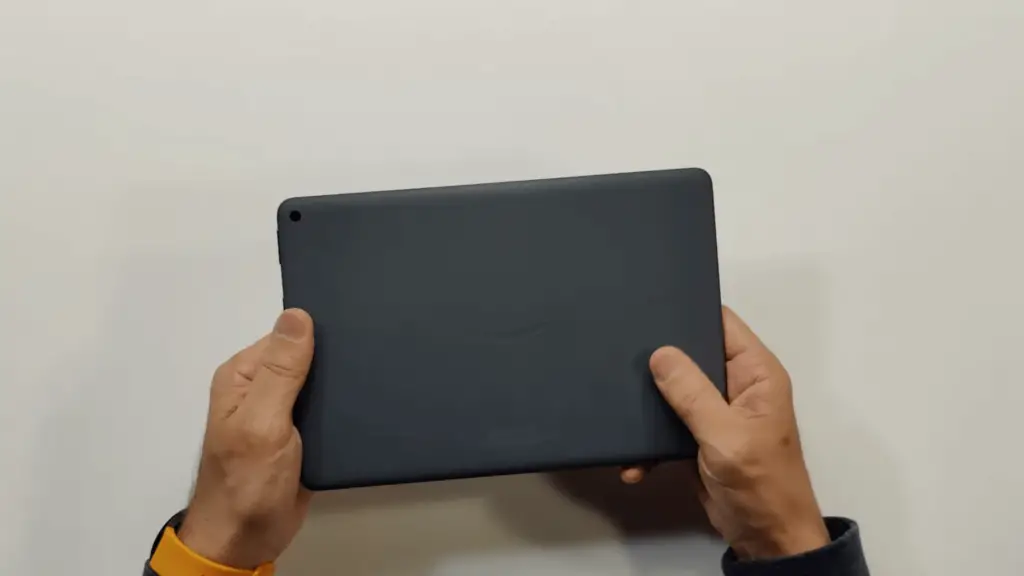 On the contrary, Samsung offers tablets in various sizes and weight categories. Some of their basic tablets, such as the A8, come around 160 grams of weight, while the expensive and more featureful tablets can weigh up to 400 grams.
In terms of one-hand operation, Samsung tablets feel a little bulkier than Fire tablets. And both these tablets come in multiple color choices.
4. Screen Quality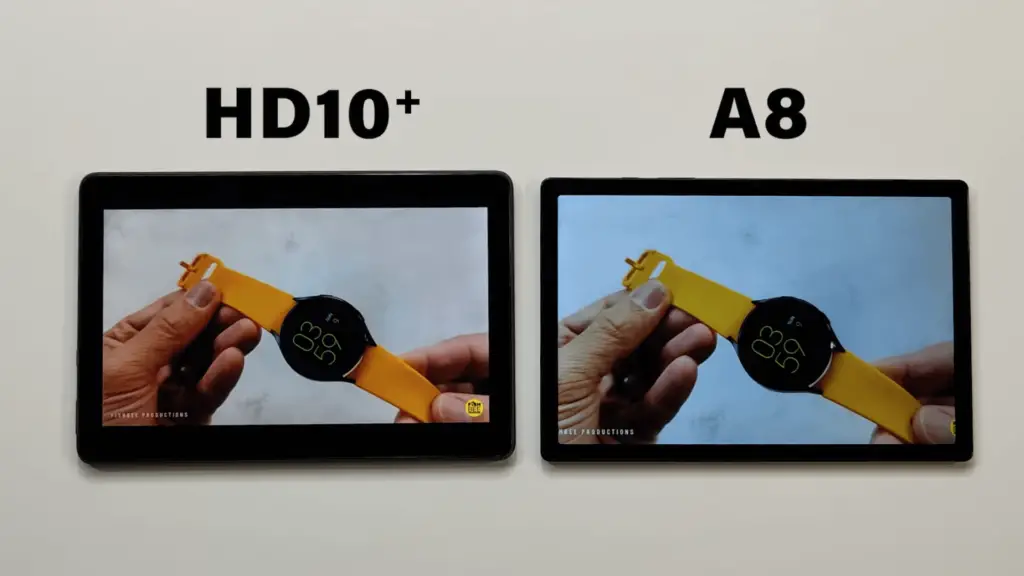 The basic variants of the Amazon Fire tablet come with an LCD display with 1080p resolution. And the HD variants of Fire, such as the Fire HD 8 or Fire HD 10, come with an LCD display with a 1920 x 1200 screen resolution.
All Fire devices come with full-HD capabilities, making your content look sharper and more vibrant. In addition, all variants of the Fire tablet use backlit technology to make their screen brighter and clearer.
On the other hand, Samsung Galaxy tablets use several cutting-edge screen technologies including LCD, LED, IPS, and O-Led. Even the basic Galaxy Tab A comes with a resolution of 1920 x 1200 and is HD ready. Plus, higher Pixel density models offer much more vibrancy and color than competitor displays making them appear brighter overall.
Note: Many people have doubts about whether they can play HD games like Roblox on Amazon Fire tablets. So, check out our detailed guide if you want to know if you can play Roblox on Amazon fire tablets or not!
5. Camera
The camera and its quality are among the crucial deciding factors when selecting any tablet. Both these devices feature two cameras: one on the front and one on the back. All variants of Fire tablets have a 2 MP camera on both sides, which can capture decent-quality images but can't capture HD videos, although you can comfortably make zoom calls and attend webinars using Fire tablets.
Samsung tablets also have cameras on both sides. However, even the lower range of Samsung tablets, such as the Galaxy Tab A, has an 8 MP primary camera at the back and a 5 MP camera at the front.
Besides, the expensive Samsung tablets come with multiple cameras at the back, such as micro and wide angle. And you can take HD videos and crystal-clear images by using a Samsung tablet.
6. Voice Assistance
As we are slowly moving towards complete automation, voice assistance has become one of the crucial factors in the debate about Amazon Fire HD 10 vs Samsung tablet.
Fire tablets not only come with built-in Alexa support but they are also designed to give you the best reading experience possible. With a Fire device, you can also access the Kindle library with ease.
Samsung, on the other hand, comes with Google Assistant by default.
So if you have an Alexa device, such as an Echo, it is better to go for Fire tablets. However, if you have Google devices in your home, such as Nest Hubs, Samsung tablets are the way to go because they're compatible with all Google devices.
7. Audio System And Speaker
Although Fire tablets are not known for delivering great sounds, they now come with dual speakers with Dolby Atmos. You can feel a stark difference in sound quality while using a Fire 7 and a Fire 10 HD tablet, as the latter uses a better-quality speaker that is louder and clearer. The stock speakers placed on Fire tablets can generate sound up to 80 dB, which is quite good for closed rooms.
Although all Samsung tablets come with dual speakers, many variants have multiple speakers to produce an even higher-quality sound. Furthermore, these tablets also feature Dolby Atmos technology. However, the sound of basic Samsung tablets can become distorted at maximum volume level; though if you play it 80% to 90%, the audio performance is unmatched.
8. Usability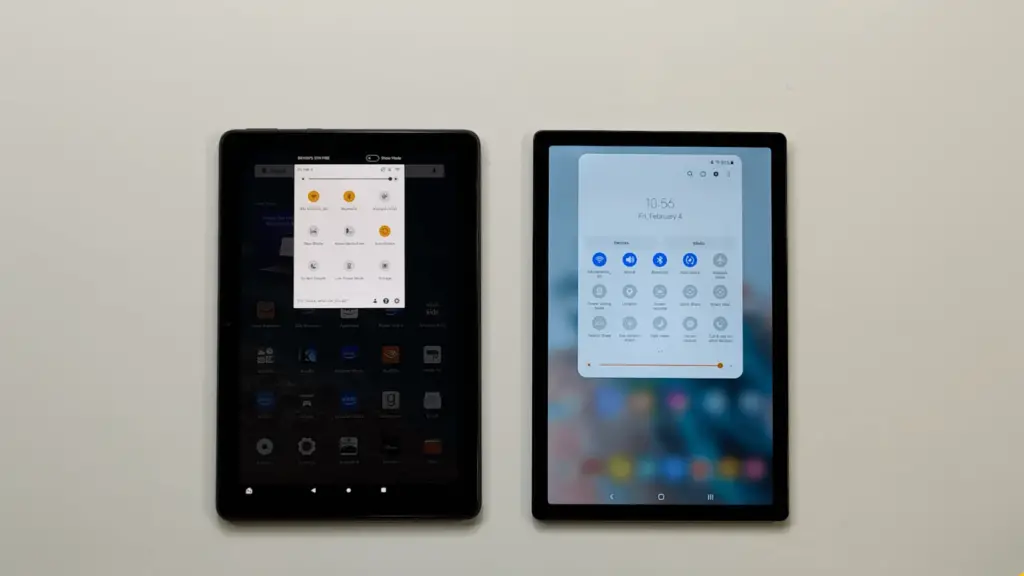 Although Fire and Samsung tablets use a kind of same processors and memory units, these two devices are primarily made for different purposes. But we need to consider the usability factor in this Samsung Galaxy Tab A8 vs Amazon Fire HD 10 battle. Amazon made Fire tablets primarily for entertainment and leisure activities, such as book-reading, binge-watching, and listening to music.
Samsung makes their devices as multipurpose tools for everyone. And not just entertainment, you can use Samsung tablets for day-to-day office work, such as editing Excel sheets and attending Zoom meetings. Besides, Samsung supports a lot more gaming and productivity apps than Fire tablets.
Note: Many people have already asked us why the tablet keeps turning off even when they are not using it. Check out our detailed guide to get the answer!
9. Battery Life
The cheaper Fire 7 and 8 models can give you 12 hours of battery life on a full charge, whereas the more expensive variants like the Fire HD 10 will only last for 10 hours. But, under heavy use, all these tablets will generally die after 6 to 8 hours
While Samsung is known for the amazing battery life in its tablets, the Fire brand falls short in this category. A single charge on a Galaxy Tab can run up to 12-15 hours, while the basic variant (Tab A8) can last users up to 24 hours. Furthermore, many Samsung models support fast charging—a feature not present at all in any Fire tablet currently available.
Note: Some of our users have complained that their Amazon Fire tablet is dead and not charging even while they connect it to the power source. Check out our comprehensive guide to fixing it.
10. Connectivity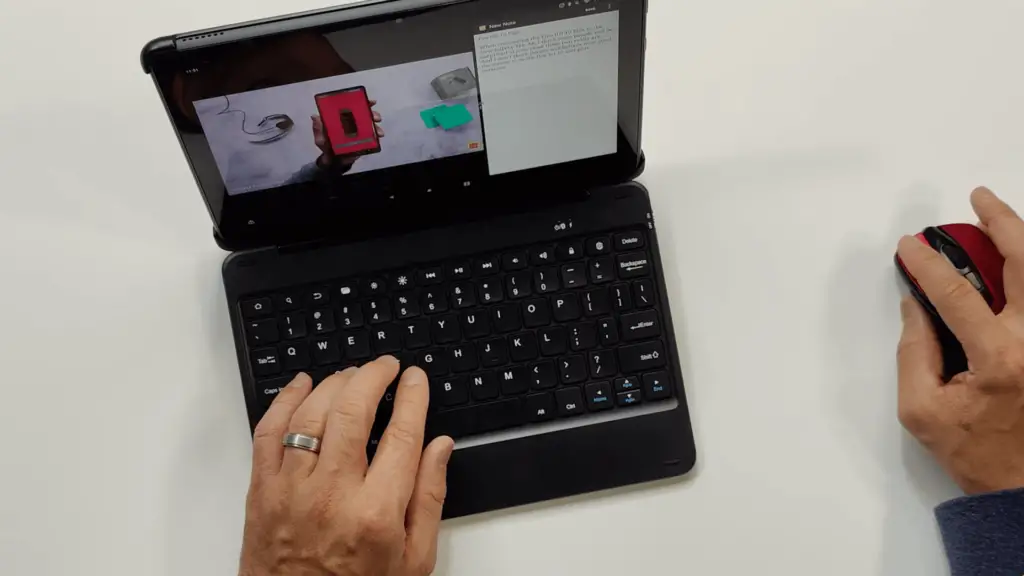 All versions of the Amazon Fire tablet come with a micro-USB port for easy connectivity, however, the Fire HD 10 now comes with the latest USB Type-C. You will also get both Bluetooth and Wi-Fi functionality in all variants of the Fire tablets. And on top of that, if you choose the Fire HD 10, you'll receive the updated Bluetooth v5.0 version.
The majority of Samsung tablets, including the more expensive models such as the A7 or A8, have both micro-USB and Type-C ports for enhanced compatibility. Also, you will find that all Samsung tablets come with Bluetooth v5.0 installed. Plus, it goes without saying that all Samsung tablets have Wi-Fi capabilities and can double as personal hotspots.
11. Pricing
This year, Amazon Fire tablets are among the cheapest options on the market. The basic Fire 7 and 8 models can be had for under $90, while the most expensive option, the Fire HD 10, sells for about $150.
However, you can purchase these Fire tablets at a much cheaper price during big sales like Amazon Prime Day or Black Friday. On the other hand, Samsung always has high tablet prices; even their lowest model tablet, the Galaxy A8 costs $199.99
Which Is The Best Option Between Amazon Fire And Samsung Tablets?
If you have a moderate budget and looking for an everyday tablet, Fire is the clear winner in the Amazon Fire vs Samsung tablet debate. You'll get almost all the features necessary for everyday use in Fire tablets.
However, if you are searching for a performance tablet, Samsung tablets are the way to go. They have many more features than Fire tablets but yes, they may cost around $400. That price is completely justifiable because these tablets come with octa-core processors which makes them faster than most other options on the market, with more RAM, a better camera, and easy access to Google Play Store so that you can download any third-party apps that you want or need.
FAQs
Is an Amazon Fire tablet the same as an Android tablet?
Yes, Amazon Fire tablets are quite the same as a typical Android tablet, as both these devices run primarily on stock android, although Fire uses a different UI called Fire OS. You can do almost anything on Fire that can be done on Android tablets. However, you need to download apps from the Amazon App store.
What is the difference between Android and Fire?
Fire OS, used by Fire devices, is actually based on stock Android. However, Amazon introduced this OS only to support their Fire devices. And for that, you can't download Google Play or any other third-party apps on Fire devices. You can only access and install apps on Fire devices from the Amazon App store.
What is the difference between a regular tablet and an Amazon Fire tablet?

Like any other general tablet, the Fire tablet also has similar features and specifications. However, the Fire tablet runs on Fire OS developed by Amazon, which is based on stock android. But you can't download any app from Google Play Store. Instead, you need to access the Amazon App Store to download and install apps on Fire devices.
Why are Amazon Fire tablets so inexpensive?
While most smartphone and tablet manufacturers, such as Apple or Samsung, make money from their hardware, Amazon doesn't make any profit from their devices, such as Fire tablets. Instead, they emphasize providing a complete ecosystem to users. And that's why Fire tablets are quite cheaper than other tablets in the same category.
Conclusion
If you're looking for a budget-friendly tablet, Amazon Fire is a great option. Plus, you can now speed up Amazon Fire tablets to support even the heaviest tasks. However, if you have a moderate to high budget, Samsung tablets might be a better option for you since they come with more features and better specifications.
We believe that this fully informs you of the debate between Amazon Fire and Samsung tablets. However, if we have missed anything or if there are any other notable distinctions not mentioned here, please let us know in the comments below.