Amazon Fire Tablet vs iPad – Detailed Comparison In 2023
January 19, 2023
While Apple iPads are trying to keep their place at the top in the performance tablets segment, Fire tablets from the house of Amazon are also giving them stark competition, especially in the performance and pricing factor. So, we have compiled a detailed guide on the longstanding Fire tablet vs iPad debate!
iPads are best if you are looking for a vivid color display, enhanced camera output, better battery life (up to 12 hours), and seamless connectivity, although it comes above the $300 price range. And if you are looking for a budget option for moderate performance, then Fire tablets are the clear winner, as most of the Fire devices come within the $100 to $200 price bracket.
Besides the price and performance, you need to look deep into various other aspects of both these devices before you proceed with buying one. So, here goes the detailed comparison guide that you can follow before you take your final call.
Fire tablet vs iPad – 14-Point Comparison
The battle of Fire tablet vs iPad is truly intense, and you can't come to any conclusion without analyzing each aspect of both these devices. So, here goes our 14-point comparison guide for you to help you select the right device for the right purpose.
1. Screen Quality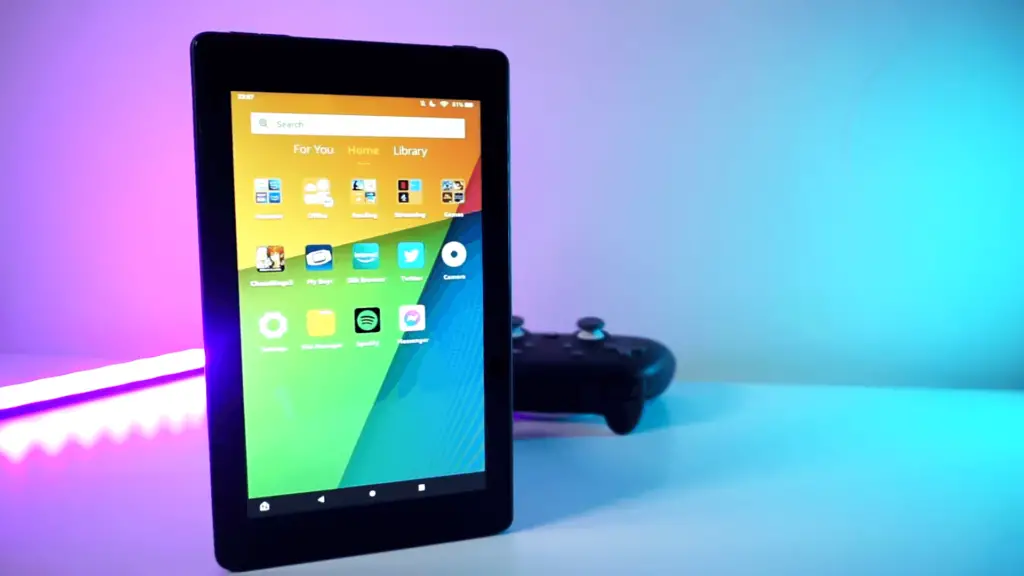 Screen Quality is definitely an important aspect, especially if you are considering the final result of Fire tablet vs iPad for kids and adults. The new series of iPad comes with a 10.2 inches Retina display that delivers 500 nits of brightness. Besides, the 2160×1620 pixels screen resolution is ideal for gaming and entertainment activities. It is also ideal for reading and drawing as it is compatible with the first-gen Apple pen.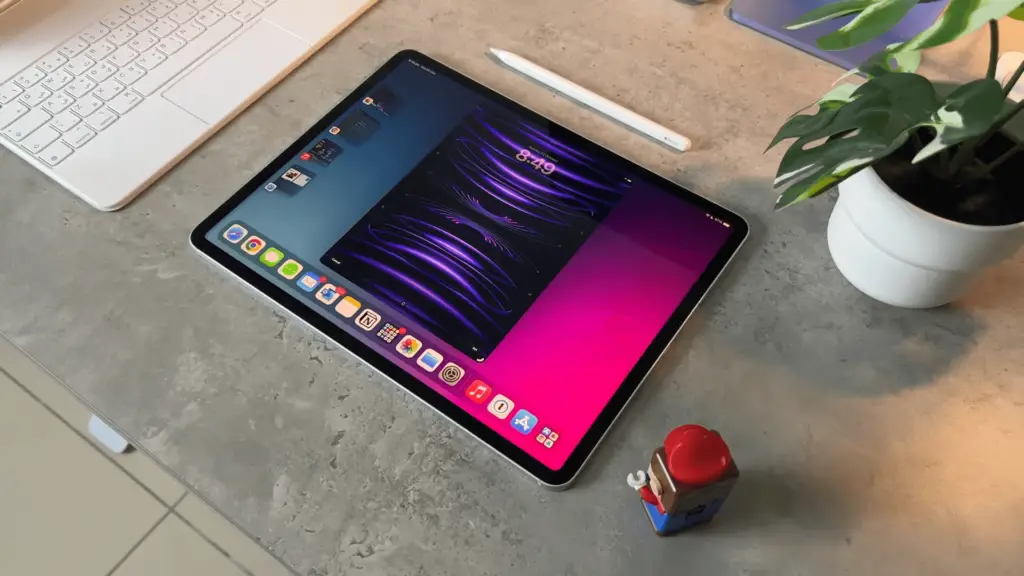 The new Fire 10 HD comes with a 10.1 inches HD display that delivers decent performance. The 1920×1200 pixels screen resolution is good for general activities and reading, although it may feel a little underpowered while gaming. Fire tablets can't compete with Apple iPads in areas like color reproduction and actual contrast, as those are far superior to Fire tablets. 
2. Reading Quality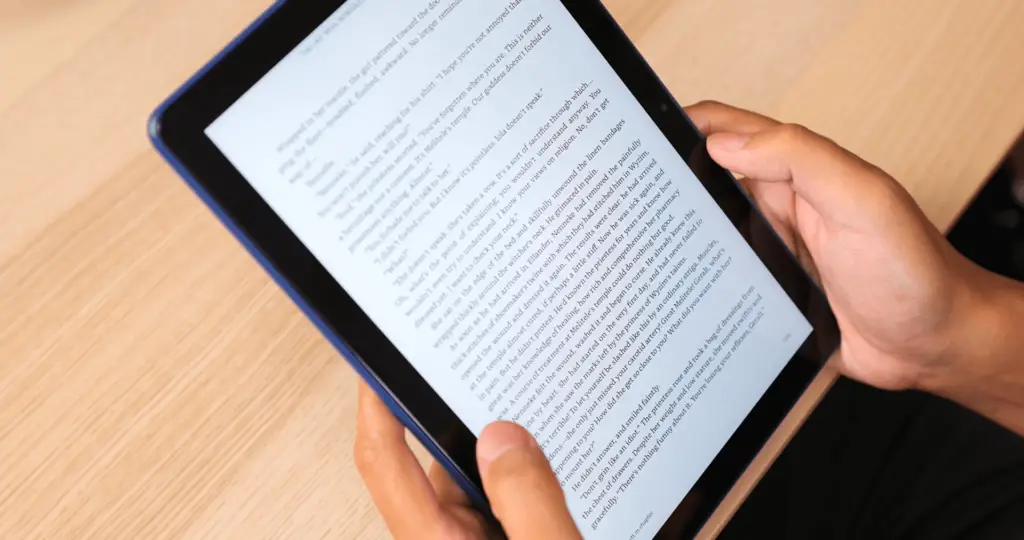 Many people want to know the showdown result of kindle Fire vs iPad for reading, as many people mostly use tablets for book-reading purposes. iPads are among the best tablets for video calls, no doubt about it. And it also delivers an unmatched performance if you talk about online reading quality. However, Fire tablets are in another league, as they are specially designed to support Kindle.
You can build your own library right on your Fire tablet using the Amazon bookstore. And you can also use services like Kindle Unlimited that connect good books with great readers. And the new service like Kindle Vella can even enrich your library on a Fire tablet. However, Apple is also not far away, as it has several apps dedicated to the best book-reading experience, such as Chirp.
3. Content Availability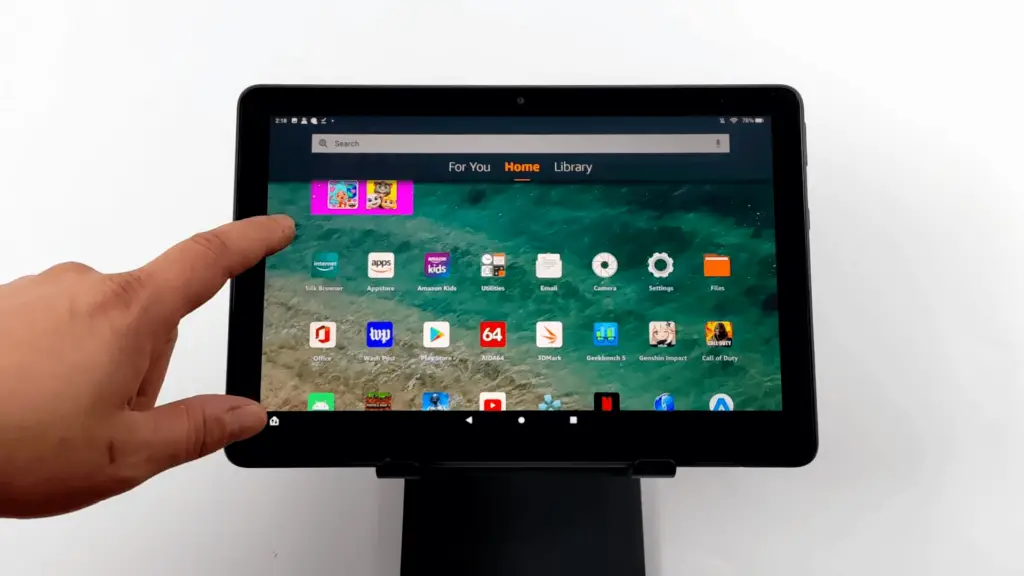 Having the reading factor in mind, you must emphasize the availability of content in different libraries. iBooks is a dedicated app for iOS that comes preinstalled with the iPads. And you can access more than 150,000 titles right from Apple Books (former iBooks). However, the Amazon Kindle store has more than 800,000 titles from every genre imaginable.
So, the difference is prominent. While Kindle is close to touching the million mark, Apple is still struggling to provide a wider array of content to its users. However, if you download books from third-party sources in ePub files, the iPad will be the only option for you, as any version after Kindle 3 doesn't support the ePub file format. However, you can convert those files to Kindle-friendly formats by using special apps like Epubor Ultimate.
4. App Availability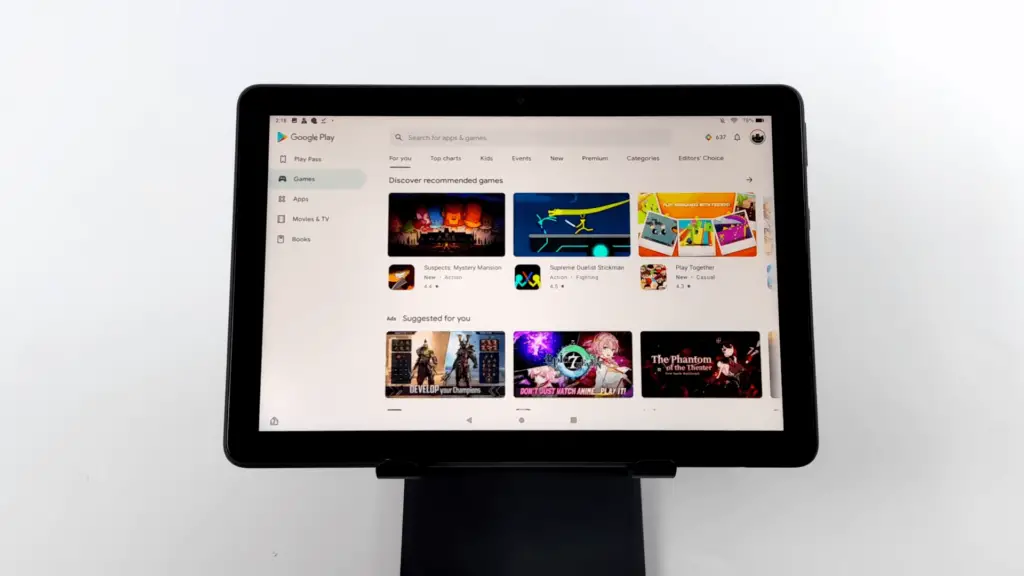 It is almost eleven years since Apple designed the iconic "There's an app for that" ad campaign. And this company still stands true to its ads, as you can get a wide range of apps in the Apple App Store. There is almost an endless selection of third-party iOS apps available on the App Store. From finance to sports, from typing assistance to screen recorder, you just name any, and you have that on the Apple store.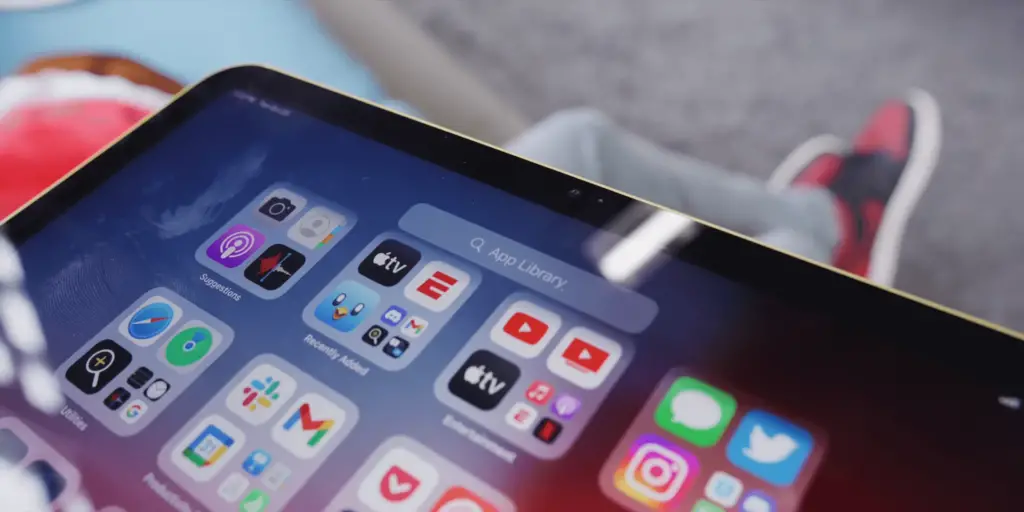 Fire Tablets also has an Amazon App store that is based on Android. However, the collection of apps is extremely limited, and you can't download modified apps from third-party sources directly onto your Fire device. But yes, you'll get all the common apps in the Amazon store, such as Netflix, Angry Birds, and Surfer. You may also find it hard on Fire tablets to get a suitable reading app for any unconventional file format.
5. Heavy Official Works
The Comparison of the Fire tablet vs iPad will not be completed without mentioning the performance of these two devices while doing heavy official work. There is no doubt that Apple iPads will be the best option for you if you are solely concentrating on official tasks, as you'll get accounting software like QuickBooks and task management tools like Asana right in the Apple App Store. Besides, the screen is also good for multitasking and other demanding tasks, such as photo or video editing.
In Fire tablets, you'll have Microsoft tools, such as Office. However, the availability of apps is very limited, and you may find it extremely hard to find a suitable app to even open some specific file formats. And as there is no direct doc editor available, you need to access your Google Docs through the Amazon Silk browser. However, many of our users have already complained that their Amazon Fire Tablets were dead and not charging whenever they pushed their devices to the limits.
6. Portability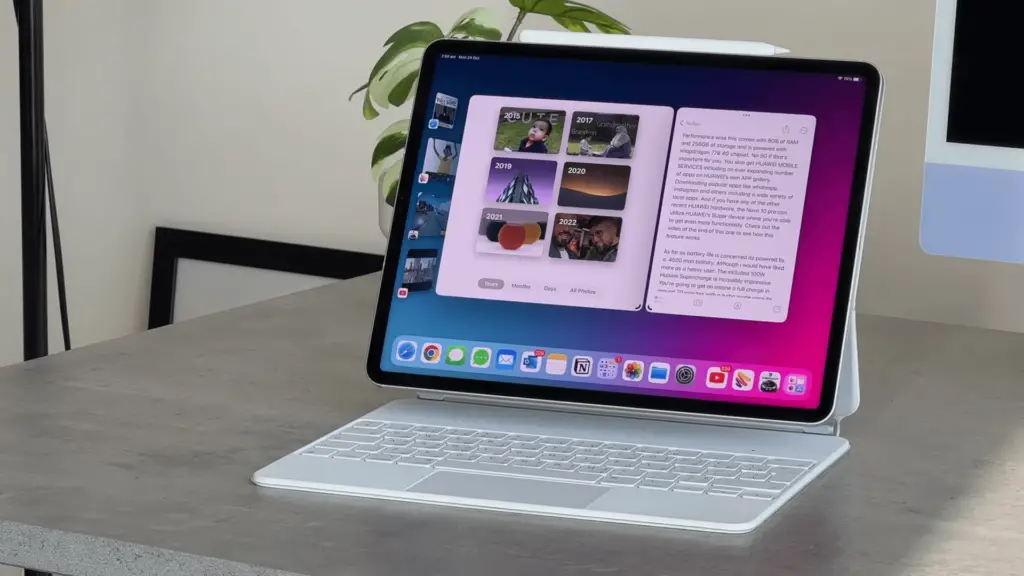 Portability and compactness are also crucial factors, as most people use tablets on the go. So, size and weight can play a significant role in your selection between iPads and Fire tablets. The current generation iPads weigh around 14.1oz. On the contrary, the new Fire or Kindle is around 7 to 7.2oz, which is almost half the weight of a new-gen iPad. Fire Tablets are also among the best tablets for watching movies, as they are extremely lightweight and easy to hold.
The 9.4 x6.6×0.3 dimension of the new iPad feels quite thick on hands, especially if you hold it for a long while watching any movies. However, the 6.7×4.6×0.36 dimension of Kindle Fire makes it an absolute master in portability. It is almost a pocket-size computer that you can easily carry with you. And it also doesn't look or feel bulky even while you hold it for hours.
7. Camera Quality
Amazon Fire tablet comparison with iPads will be incomplete without talking about the camera quality of both these devices. There is no doubt that Apple devices are known for having cutting edge ahead-of-time cameras. The Quality and production standard of cameras used in Apple devices also make the device super expensive. And you can easily capture UD quality video in 1080p using your 8MP primary camera on iPad.
The new iPad also has a 1.2MP front camera that comes with Retina Flash to ensure amazing selfies and videos. You can also feel its clarity and output while doing Zoom calls while using the front camera. On the contrary, Amazon Fire tablets come with a 2MP basic camera on both sides. So, you can only take 720p modest-quality images and videos with those cameras. Although you can comfortably do video calls with that camera, you'll feel its underpowered output while doing outdoor photography.
8. Entertainment Factor
You may not get the app you are looking for in the finance or education category while searching for them in the Amazon store. However, if you talk about entertainment and infotainment apps, you'll get almost all the apps in Amazon Store you can possibly imagine. Amazon Prime Video comes preinstalled with every Fire tablet, which opens the door to world entertainment. Besides you can also download Amazon Music and other entertainment apps developed by Amazon.
You can also get Netflix, Hulu, Spotify, YouTube Premium, and HBO Max on your Fire tablet. Besides the Kindle bookstore, you can also access third-party apps like Audible on Fire tablets. You can also consume your own content, such as your recorded video, on Fire devices, as those are compatible with microSD cards. On the other hand, you can also download those apps on iPads, although the book-reading apps are quite limited in number.
9. Gaming Performance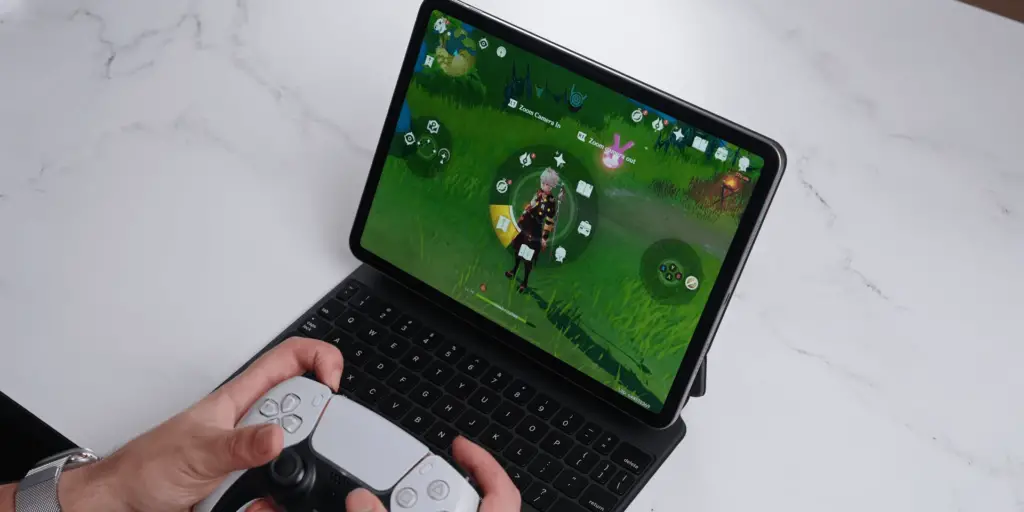 Many people want to know about the final showdown of iPad 7th generation vs. Amazon Fire HD 10 in terms of gaming performance. As many people use their tablets recreationally for gaming, performance in high video settings can be a crucial factor. iPads have way more powerful processors and graphics processing units compared to Amazon Fire tablets. You can play almost any modern-day graphics-rich game on your iPad.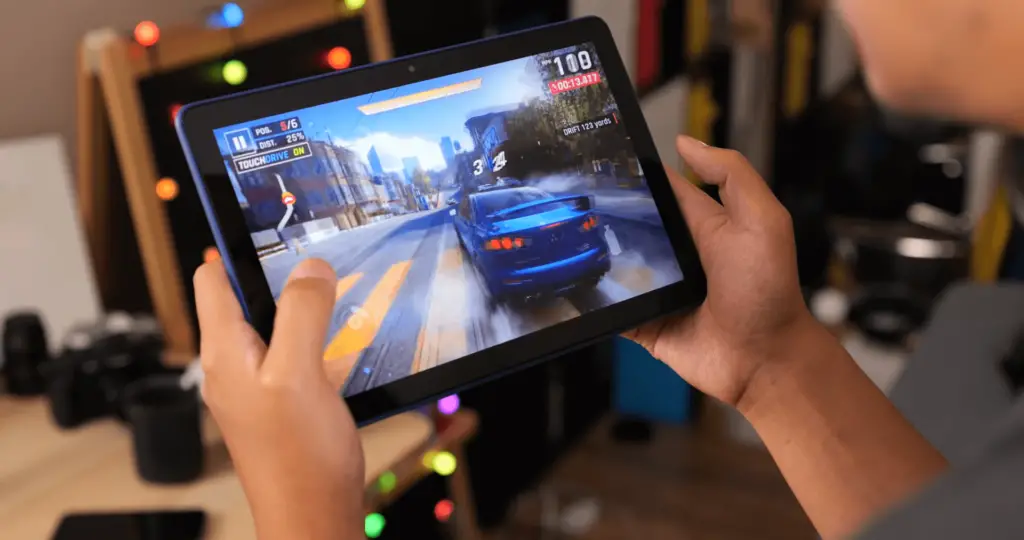 However, Fire tablets feel a little underpowered when you solely use them for gaming purposes. Many people even have doubts about whether you can play Roblox on an Amazon Fire tablet or not. But yes, you can definitely play basic games like Mario Cart on Fire tablets. So, if you are comfortable with the cost and want to buy something for gaming, you must go for an iPad, as it will deliver much better performance while gaming than Fire tablets.
10. Storage Size
Fire tablets are the clear winner in the Fire tablet vs iPad battle in terms of storage capacity. Although the in-built storage of a Kindle is just 8GB, and the primary memory of a Fire tablet is around 16 to 32 GB, these Amazon devices are completely upgradeable. And as these devices support microSD cards, you can easily expand your memory up to 512 GB by using an external card.
Even if you don't want to use any card while using a Fire tablet or Kindle solely for reading purposes, you can easily download more than 10,000 book titles on your Fire tablet. Things can be a bit challenging in iPads, as those don't have any memory expansion option. Besides, you can also use a flash drive with Amazon Fire tablets which you can't do with any of the Apple devices.
11. Battery Life
Apple devices are infamous for their battery output, especially if you talk about the previous generations of Apple products. However, this company has improved so much on the battery aspect. And now, almost any iPad can deliver more than 10 hours of battery life, even with moderate to severe use. You can enjoy gaming for six to eight hours contentiously on iPads as well.
The new generation Fire tablets also promise to deliver more than 10 hours of battery life, although the entry-level Fire 7 can hardly manage around 6 to 8 hours. Although you can get maximum battery performance in Fire tablets while you use them for reading, you will feel a drastic drop in battery performance while gaming or watching HD videos. Besides, the longevity of the battery is also significantly lesser than Apple devices.
12. Connectivity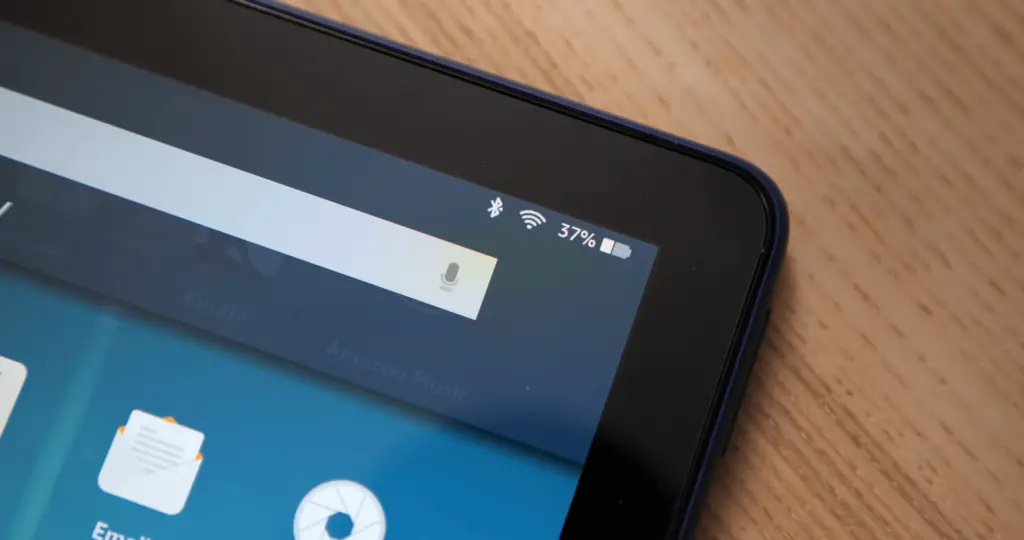 Connectivity is another factor in the Fire tablet vs iPad debate, as both these devices are now claiming their top spots in their respective categories. New-gen iPads have dual-band wireless up to 802.11ac. However, it also has HT80 with MIMO for faster download and upload speed. Besides, new-gen iPads are 4G LTE ready. Moreover, you can also enjoy Bluetooth 4.2 on iPads.
On the other hand, the new Fire tablets come with dual-band wi-fi up to 802.11ac, although it lacks MIMO support for faster connectivity. Besides, it also has a lesser area coverage in Bluetooth connectivity. Many people have also complained that their Amazon Fire tablets are not working with mobile data, which never occurs on iPads. However, you can get typical USB-C support in Fire tablets, which is not present in old-gen iPads, as they only come with a Lightning connector.
13. Pricing Factor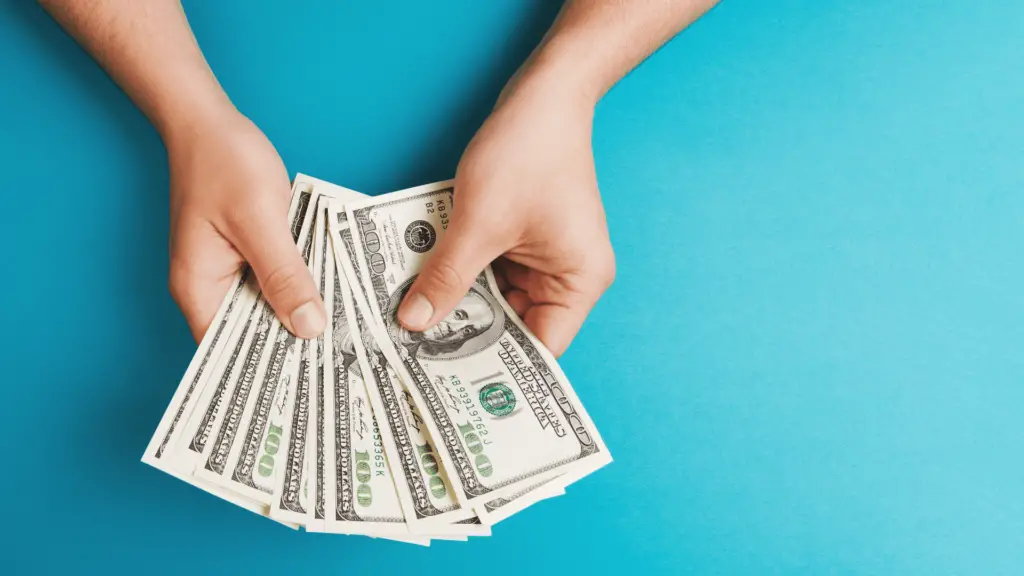 It is no surprise that iPads are a lot more expensive than Fire tablets, as Apple and Amazon target different customer bases. Besides, Apple is also (in)famous for launching super-expensive products. The new-age iPads come in no less than a $400 price tag, although the price truly complements its versatility, usability, and final output. However, the accessories are also pretty costly for iPads.
On the contrary, Fire tablets and kindles from the house of Amazon are quite inexpensive, making them suitable for students, homemakers, and even teens. All the basic versions of the Kindle and Fire tablet come within the $100 to $150 price bracket. And you can get it even cheaper on special occasions like Big Billion Day or Prime sale. The price of books in iOS is also on the steeper side as those are capped at $15.99, while you can get almost any book in Amazon bookstore for under $9.99.
14. Overall Performance
The new-gen iPads now come with A4 and A5 chips developed in-house by Apple. This processor is super fast and ensures the best user experience possible. It also delivers a smoother page turn, faster book download, and vivid color output. You will witness a lightning-fast response time while using your favorite Apple devices. The battery life and portability are also quite good in the latest versions of iPads.
On the contrary, Fire tablets still come with basic chips that fail to deliver optimum performance when needed, especially while gaming, watching HD content, or recording clearer videos. The battery life is also a bit shorter than iPads. So, there is no doubt that Apple iPads are the clear winner in the much-awaited Fire tablet vs iPad debate, although Fire tablets also deliver a modest performance for light to moderate users.
Why Should You Choose An iPad Over Fire Tablet?
You must have already understood that iPads hold a much stronger position in the Fire tablet vs iPad debate. Most Apple users are quite loyal to the company, as they are reluctant to move to any new platform, primarily due to the user experience they get while using Apple devices. The combination of sleek design, minimalistic pattern, and smooth user experience make iPads a clear champion of its category.
If you want a powerful device that will deliver the optimum user experience for the next couple of years, you must stick to iPads. And due to their reliability, iPads have already become quite synonymous with tablets despite having a costlier price tag than other tablets. You can now choose almost any device among iPad, iPad Air, iPad Pro, and iPad Mini, depending on your budget.
You must stick to iPads if you are looking for a portable build with a minimalistic design, optimum power output, and vivid screen. And the new A12 chip is also quite good, even while you let it handle enormous pressure while multitasking and HD-quality video rendering. 
Besides, iPads will give you the option to select a screen size between 10 and 12 inches to let you have a suitable tablet. And let's not compare the camera of iPads with any other devices as those are far more powerful and advanced than any other tablets in the same category.
Why Should You Choose A Fire Tablet Over An iPad?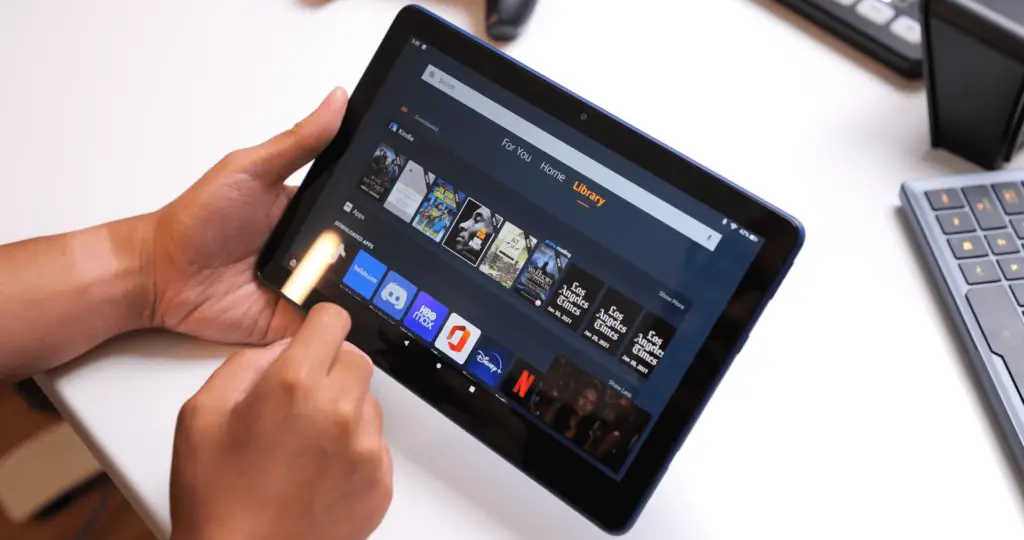 Amazon launched the Fire tablet as an answer to the iPad for budget customers. It comes with almost all the features available in the iPads, although it costs almost half the price of a new-gen iPad. However, you can't expect the same performance from Fire tablets that you used to get on iPads, as Fire tablets are quite underpowered. But yes, price is not the only deciding factor of the Fire tablet vs iPad debate.
Depending on your budget, you can choose from Fire 7, Fire HD 8, Fire HD 8 Plus, Fire HD 10, and Fire Kids. And all these devices come with 7 to 10 inches screen sizes with moderate resolution. However, you can now get a more powerful RAM and wireless charging option in the new-gen Fire HD 8 Plus tablet that can give a neck-to-neck fight with basic iPad models.
Although it is not as smooth as iOS, the FireOS installed on Amazon Fire tablet can serve your purpose. Despite being based on stock Android, you can't access Google Play Store from your Fire tablets, as apps are only available in the Amazon App Store. And options are quite limited in the store. However, you will get almost all the basic apps, including the entertainment ones.
But, if you are willing to buy a tablet solely for book-reading purposes, it is better to go with the Fire tablet. It is not just less expensive than iPads, but you will get a much wider variety of books in the Amazon Kindle Library. Besides, Fire tablets have a smaller screen size than iPads, which makes them even more portable.
Which Device Should I Choose Between A Fire Tablet And An iPad?
If you want to know about the everyday allrounder in the long-awaited Fire tablet vs iPad debate, iPads are the clear winner, although they come with a heavier price tag. The price of the latest generation iPad is almost double the price of the newest Fire HD 10 tablet. However, you'll get a much clearer screen and powerful processor in iPads than what you get in Fire tablets.
The only striking difference between an iPad and a Fire tablet is the price. You can get the entry-level Fire 7 (suitable for reading books) for just $35 with a discount from online stores, although the MRP is $49.99. However, the basic 10.2-inch iPad will cost you no less than $329. Even the costliest Fire tablet, the Fire HD 10, costs just $149.99, which is less than half the price of an iPad.
So, if budget is not a constraint, you must go with Apple iPads, as those are much more powerful, reliable, and durable. Besides, you can do almost anything on these iPads, from gaming to PowerPoint presentations. But, if you will mainly use your tablet for reading books, it is better to stick to Fire tablets, as those are budget-friendly options.
FAQs
Which is better an iPad or a tablet?
Contrary to popular belief, iPads are also tablets, as they don't belong to any other electronic device category. However, if you compare iPads with any other tablet in the same category, iPads are not just the leader but ensure a much better performance. But yes, you need to pay a hefty price to get an iPad even today.
What is the difference between an iPad and a Kindle Fire?
Although both these devices are just tablets, there are many striking differences between the iPads and Amazon Fire tablets. You'll get a remarkable difference in performance, screen quality, camera quality, and battery output while using an iPad after using a Fire tablet. Besides, you'll get a wider range of app options on iOS than what you get on the Amazon store.
Is a Fire tablet worth getting?
Yes, Fire tablets are definitely worth buying, even if you are not a big fan of the Amazon ecosystem. It will not just give you the best possible output in its price bracket, but you'll get the same user experience as using a Kindle. Besides, you can access close to a million book titles on Amazon Kindle bookstore, which is missing even on the costlier iPads.
Can an iPad do the same thing as a Kindle?
If you talk about the performance and actual output, even the basic variant of Apple iPads can deliver equal or even better performance than Kindle. Kindles are primarily designed for reading books, which you can also do on iPads. However, Kindle delivers a much paper-like feeling while reading books, which is missing on iPads. Besides, iPads are quite costlier than Kindle as well.
Conclusion
If you need a sturdy tablet for all-around performance in day-to-day activities, iPads are the clear winner, although this product from the house of Apple comes with a hefty price tag. But, if you are getting a tablet for light to moderate work and mostly for reading books, it will be better if you stick to Amazon Fire tablets, as they are bound to give you an unmatched book-reading experience in a significantly lesser price bracket.
So, these are all that we need you to know in this Fire tablet vs iPad debate. But, if you think we have missed any crucial points while comparing two of these amazing gadgets, or if you have any other input about any of these two gadgets, feel free to drop your suggestions and feedback in the comment box below.